This is my first attempt at blogging from my droid. If the formatting is off more than normal, you know why!
I threw these bars together on Tuesday night to bring to worship practice. I've never made blueberry sauce before, and its now one of my new favorites! It quick, easy, and was great on top of this cheesecake. I think I will make more soon for blueberry pancakes. If i could get up the couage to can I might try that as well. Canning is really my husband's thing though, and I am glad for it.
I really liked the crust on this as well. It has kept its crunch for several days, and is a nice change from your typical shortbread or graham cracker crust. The cheesecake itself is a very basic, no fuss, traditional recipe. You can sub in your favorite one if you've got one that's a bit different.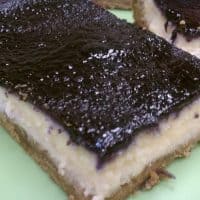 Cheesecake Bars with Blueberry Topping
Total Time:
1 days
1 hour
5 minutes
These easy homemade cheesecake bars have a homemade blueberry topping! So delicious, and easier than the taller, thicker cousins.
Ingredients
Crust:
2/3 cup pecans, finely chopped
2/3 cup brown sugar
2/3 cup butter, slightly softened
2 cups flour
Cheesecake:
4 - 8 oz blocks cream cheese, softened
1 1/2 cups sugar
1 cup sour cream
1/3 cup whole milk
1 tbsp vanilla
2 tbsp lemon juice
1/4 cup flour
4 eggs
Blueberry Topping:
4 cups frozen blueberries
2 - 3 cups sugar
2 tsp vanilla
1/8 cup lemon juice
3 tbsp Chambord
Instructions
Mix together crust ingredients in a food processor until combined. Press into the bottom of a greased 9x13 or 10x14 and partially up the sides. Bake at 350 for 10-13 minutes, or until lightly toasted and golden brown.
While crust is baking, mix cream cheese and sugar in mixer on medium until smooth. Add sour cream, vanilla, milk, and lemon juice. Mix on low until combined. Slowly sift in flour while mixing on low until combined. Add in eggs, one at a time, and using the pulse feature on your mixer (or mix by hand if yours doesn't have a pulse feature!), pulse 1 or 2 times to just barely mix in egg. Continue adding eggs one at a time and pulsing until all are added. Pour batter over crust and bake at 325 for 20 - 25 minutes, or until edges are set and middle is slightly jiggly. Pull from oven and chill at least 24 hours.
Place blueberries and chambord in a sauce pan. Heat to a simmer, stirring frequently. Add the other ingredients and simmer until the sugar is dissolved and the sauce is slightly thickened. Pour sauce over cheesecake while its chilling, or serve on the side. If necessary, add some apple juice to the sauce to make it pourable.