You've come to the right place.
Sometimes I don't have my slow-cooked, meaty, big-batch spaghetti sauce in the freezer ready to go. Sometimes I want a little lighter tasting, fresher, meatless marinara for a quick lunch.
Sometimes I am lazy and forgot to plan anything for dinner until 5:15 and I'm scrambling for something quick and easy but doesn't come pre-made in a jar…it comes basically deconstructed in cans.
I'm not really a spaghetti snob, as you've read previously. I'll eat plain tomato sauce and be happy. That said I do appreciate a good red sauce, even more so lately.
Quick meatless chunky mushroom marinara.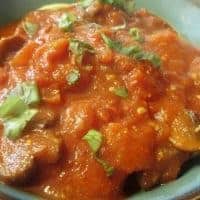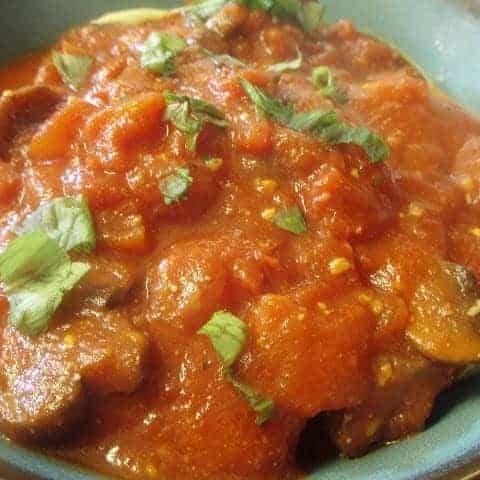 Quick Meatless Marinara
This easy marinara sauce is meat-free but full of mushrooms and tomato!
Ingredients
3 tablespoons Olive Oil
2 tablespoons finely diced onion
5-6 medium mushrooms, sliced
2 teaspoon garlic
2 tablespoons red wine, I use Cab
1 tablespoon sugar, amount is approximate and will depend on the sodium content of the tomato sauce you use
15 ounce can diced tomatoes
1/4 teaspoon dried oregano
1/4 teaspoon onion powder
1/4 teaspoon garlic powder
1 - 15 ounce can tomato sauce
1/4 cup parmesan cheese, grated kind in the green can!
*optional several of chopped fresh basil
Instructions
Place olive oil, onion, and mushrooms in a sauce pan. Saute over medium heat until water is released from mushrooms and onions are translucent. Add garlic. Saute 30 seconds. Add red wine. Cook until wine is reduced.
Add sugar, herbs, seasonings, and diced tomatoes. Cook over medium high heat, stirring frequently, until liquid is reduced.
Add tomato sauce. Stir well, heat through, and taste. Add more sugar to taste, or adjust seasonings as needed. Wait until simmering and slowly stir in parmesan cheese until fully incorporated. Serve immediately with your favorite pasta.
Enjoy! I did today!