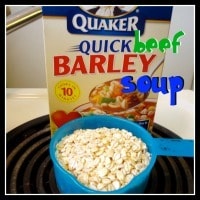 Everyone is sick in our house right now. We have all the kids with the school crud, general boogery stuff. Then there's my husband. He has an illness which will not be spoken of. Enough said. I'm doing fairly well! I had a nasty couple of yellow jacket stings on Saturday that landed me in urgent care on Sunday afternoon with a quickly spreading, nasty, red rash. Three rx's for me and two days later, and its on the upswing.
So because of all the general yuck circulating in these parts at the moment I needed to make something for dinner last night that was quick, easy, and relatively good. I think I did that!
A week or so ago I made a roast beef dinner. It was a huge cut of beef. Huge. We couldn't possibly eat it all, so the leftovers went into a baggie and into the freezer. The great thing about having a slow-cooked, fork tender roast in the freezer is that is makes beef soup and stew a breeze. Normally you need to cook beef soup or stew for a long, long, long time in order to get tender beef. This removes that step! Sweet!
So toss your leftover roast into a pot of water and bring to a boil.

Throw in an appropriate amount of beef base, which you will definitely need in this recipe.

Also throw in some chopped carrots, green beans (I use frozen), corn, and a large can of diced tomatoes.

After this comes to a boil, reduce to a simmer, and toss in a cup of quick cooking barley.

Bring this to a slow boil and cook according to package directions.
It smells awesome.

While this is cooking, get your french bread and butter it generously.
Place this under the broiler for a couple of minutes, WATCHING CAREFULLY not to burn it (bolding for me! I always burn things under the broiler!!).
When its nice and golden brown, take it out and place some cheese one side of the bread. I did mozzarella and colby jack. On the other half of your bread place your meats. This time, I wanted to do kind of a homemade BMT (Subway fans, you hear me!), so I tossed on Genoa salami, pepperoni, ham, and roast beef. Then I put both sides back under the broiler WATCHING CAREFULLY until the cheese was melted and the meat was heated.
This is something like what you will see when you pull it out.

My favorite way to top it now is with spinach and Dietz & Watson Hoagie Dressing. Next time I'm going to try out my own dressing though, so stay tuned for that.
So that was our quick soup and sammy dinner. I liked it, a lot. The kids didn't hardly eat at all (more of a product of not feeling well I think!), and poor Jeremiah. Poor poor Jeremiah. We won't talk about him.
What do you guys think of the new layout, if you've been around long enough to see the old one? It may change again soon, so don't be shocked when you click my link and see a facelift sometime in the not-too-distant-future. Have a great week!