Baked Pork Chops with Mushroom Pan Gravy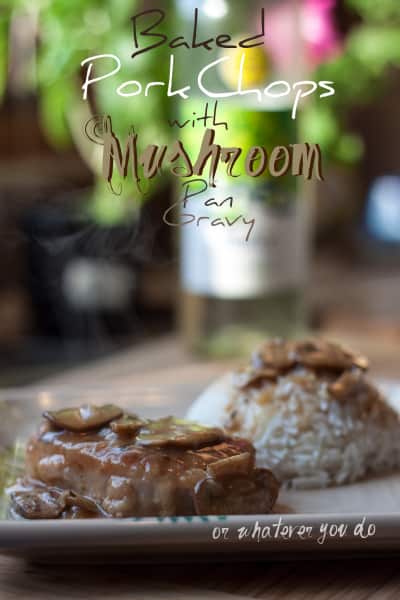 Good morning and happy Monday to all of you out there! I am slowly, very slowly, getting back into the swing of things around here. I discovered that as much as I'd like it to be different, we all still have to eat and I actually cannot spend every minute of the day napping and staring at the baby. Who can help themselves though?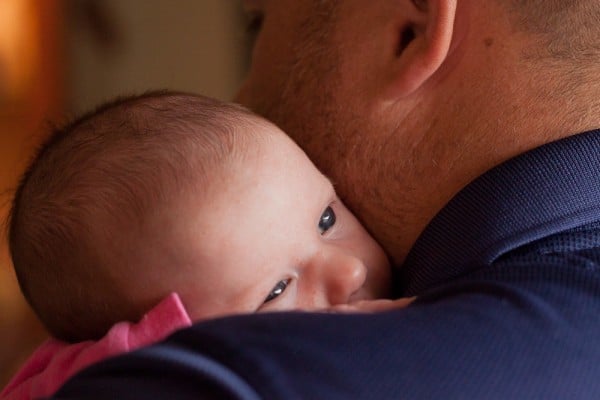 We've been existing on a lot of spaghetti, grilled cheese, frozen pizza, frozen chicken nuggets and fries, and Rice-a-Roni for the past few weeks. Not that there is anything wrong with that, but man…convenience food gets expensive. Really really fast. And I get tired of it even faster!
The other day I went searching my Pinterest "Food to Make" board for some ideas, and discovered it plumb full of sweets and desserts, but sorely lacking on main dishes. You can see where my brain usually goes! So I set off on my blog list (links over there on your right…great blogs and recipe resources over there everyone! Check them out!) to find some ideas. It didn't take long before I discovered Sing for Your Supper's Smothered Pork Chops. They looked amazing, and so so so easy! I had to try them. Onto the list they went and I finally got the chance to whip up a version of these baked pork chops with mushroom pan gravy last night.
Start by seasoning your pork chops with salt, pepper, seasoning salt, onion powder, and garlic powder. Then preheat a pan over medium to medium-high heat with about 4 tablespoons of oil and brown both sides of the chops. I flipped those ones a little early! Whoops!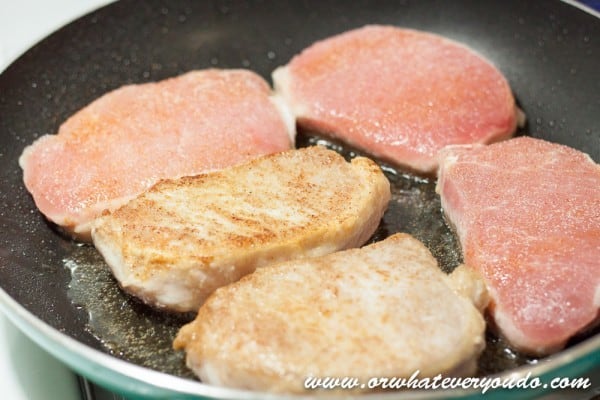 Brown all of your chops and place into a baking pan that's been lightly coated with cooking spray.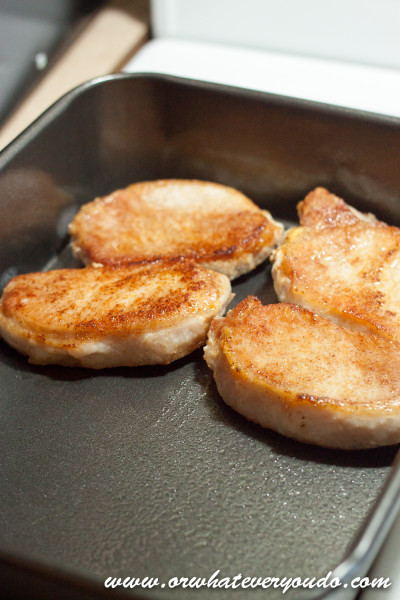 Try and keep other kids from overwhelming 3 week old baby.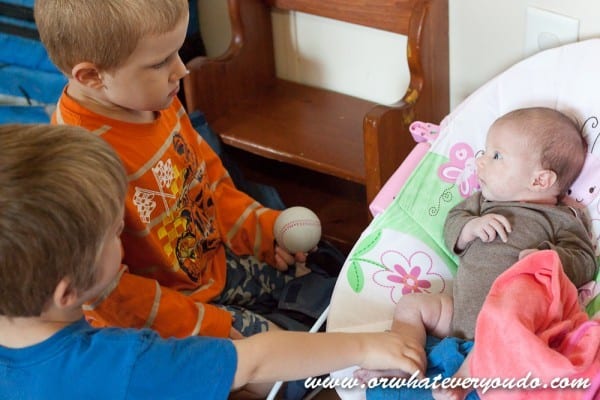 Fail, pick up baby, and enlist the help of your super handsome other-half to do the cooking while you try and handle large camera one-handed.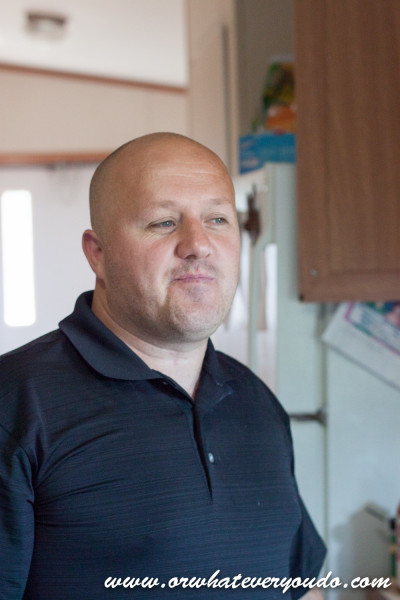 Okay, okay, back to the pork chops.

After they are all browned and removed to the baking pan, chop up some onions and mushrooms. Or you could plan ahead and do the chopping WHILE they are browning. Much smarter.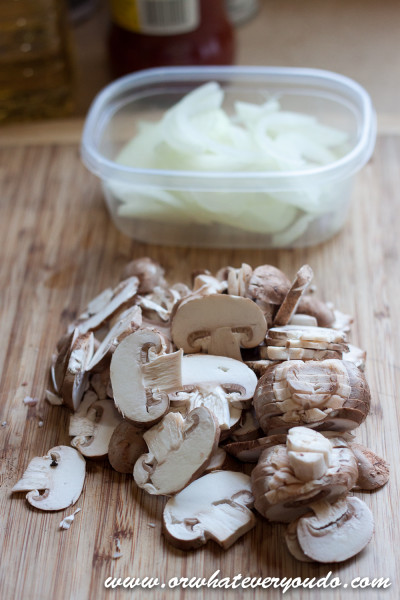 Place those and 1/4 cup of butter into your frying pan. Saute until the mushrooms release their water and it cooks off.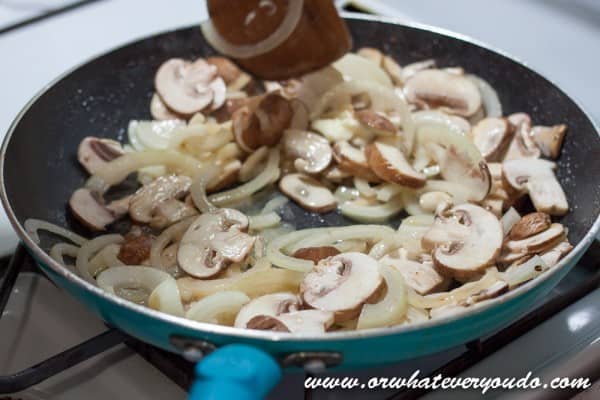 Sprinkle 1/4 cup of flour over the onions and mushrooms and mix well until all the lumps are gone. Cook this over medium-low heat for 2 minutes.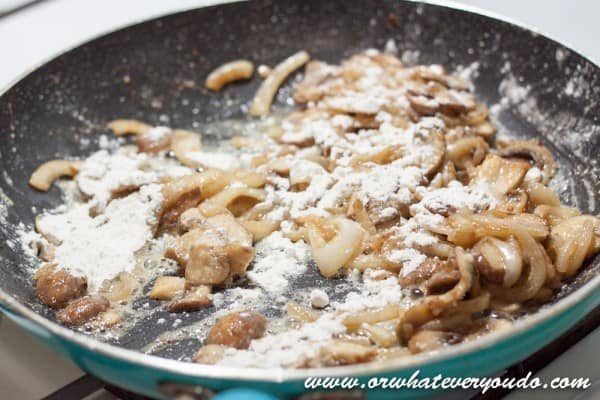 Add 1 cup of dry white wine. I used Flip Flop Pinot Grigio. It was perfect for this. Not too sweet.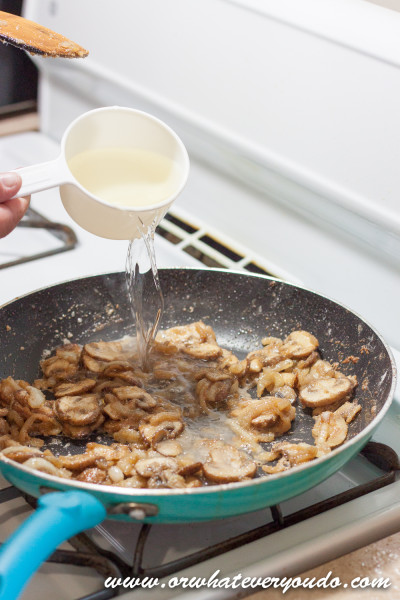 Stir well until mixture starts to thicken, and then add 1 cup of water.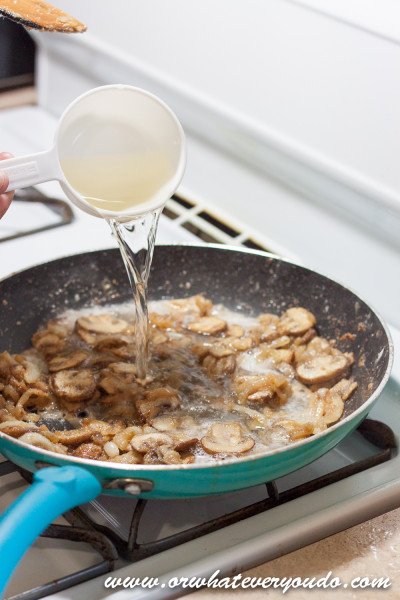 That might be another picture of adding the wine. Just pretend like it is water for me, mmmmkay?
Next up is the 1/2 cup of Italian Dressing. Stir all of this until the mixture thickens slightly. Add 1/2 tsp of dried basil into the mix.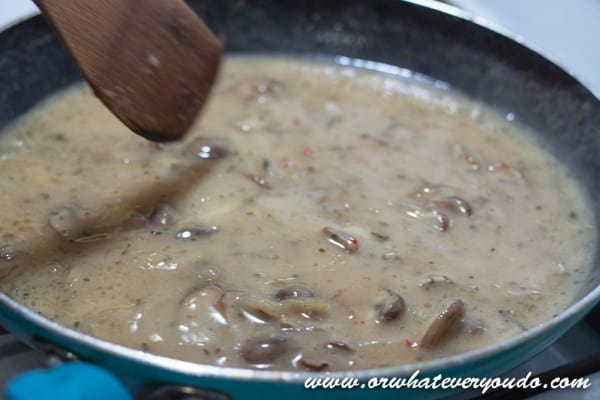 Pour this entire mixture over your chops.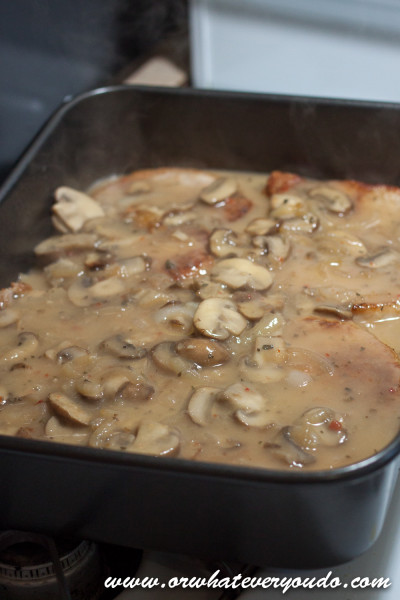 Cover tightly with foil and place in a 350 degree oven for 60-90 minutes. They should be done and tender at 60 minutes, but if you have the time to leave them in for 90 they will be better.
Serve with rice or mashed potatoes.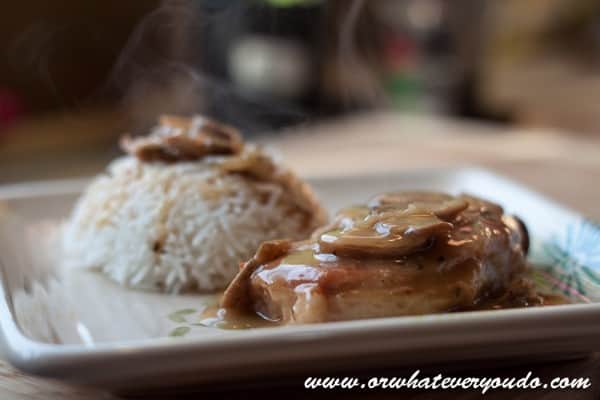 And a salad. Or something green. I was going to make some broccoli to go with this, but time go away from me! Imagine that.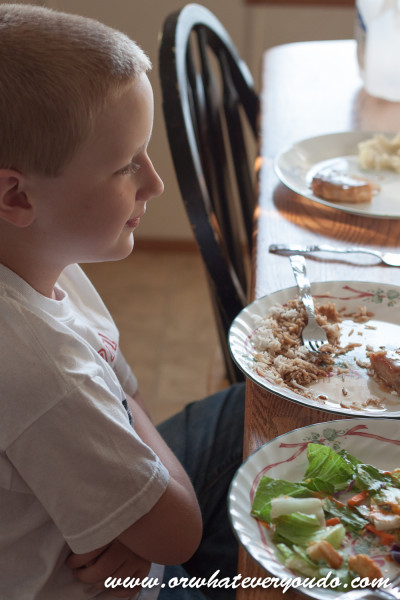 As always…
Thank You for looking! I LOVE comments. Use the comment form below to interact, or if you like what you see, and want to see more, please feel free to jump on over to my Facebook page and like me there. I post teasers for upcoming recipes, answer any and all of your questions, and every recipe from here gets linked to there as well.

If you are a pinterest fanatic like I am, you could also drop by and follow me there, and pinning my images is always appreciated!
If you would rather have every recipe delivered to your inbox, the morning after they are posted, please sign up below to be on my email list!
Thanks for dropping by! Hope to see you again soon!
~Nicole~