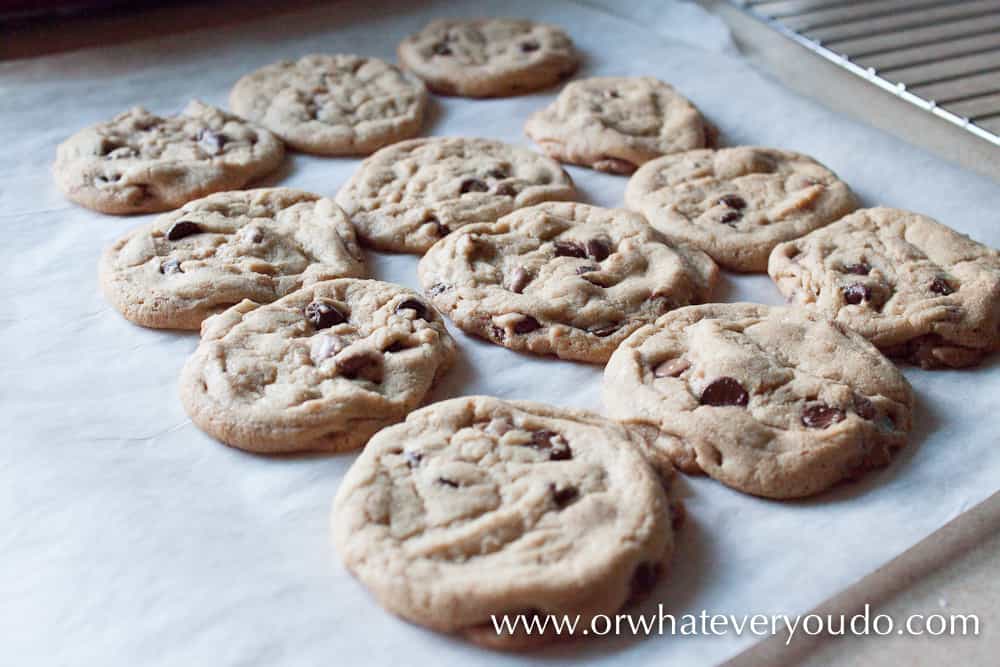 I cant believe it, but somehow during my blog migration from blogger to wordpress, my chocolate chip cookies recipe went POOF! I had to go back into the Pioneer Cookerella archives to dig this out, because I am making them up today. Makes me wonder if any other posts got lost!
I LOVE these chocolate chip cookies. I had forever been searching for that PERFECT recipe, and once I made these I knew I HAD it. Try these. You will not be sorry!
This makes a huge batch. HUGE. At least 3 dozen, depending on how big you make them. Which, for me, means that everyone and their neighbor got cookies yesterday when I was baking. They are delicious. Perfectly chewy and crisp just enough to leave you wanting more. I usually keep the dough in the fridge and bake them as needed for the kids. There is nothing like a freshly baked cookie, in my opinion.
So here is the recipe, finally, that I have inadvertently been hiding from you, for my chocolate chip cookies.
Cream butter and sugars in a stand mixer until light, fluffy, and creamy, about 4-5 minutes. Add eggs one at a time and mix well after each addition. Add vanilla and mix.

Sift together all dry ingredients and slowly add to the batter mixing on low while doing so. When well combined, mix in chocolate chips.
Put all cookie dough into fridge for at least 4 hours. 24 is better, but 4 will do in a pinch.
Take out and roll lightly into 1″ balls, place on a cookie sheet lined with non-stick foil, bake at 325 for 10-13 minutes. Take out when the outside edges are JUST starting to brown for a softer, chewier cookie. Leave in another minute or so if you like them a bit crunchier.